SRI SATHYA SAI RURAL MEDICAL SUPER SPECIALITY NETWORK
Taking inspiration from the Divine example of Swami's Super Speciality Hospital, the Organisation has always been motivated to duplicate this model at the State Level.
This is one such project. The uniqueness is that it entails active seva from the workers of the Organisation.
This projects aims at achieving the goal of providing Super Speciality treatment of high quality, free of charge, to the needy, without the cost of putting up a hospital structure for the same. This project entails the coming together of Specialists Doctors who out of their own sense of service are willing to take care of patients utilising their existing facilities.
The Trust would provide the logistical support including money for medicines and material. The first such cardiac surged under this network has been already performed.
---
SRI SATHYA SAI KAMPALA WATER PROJECT
Kampala, in Uganda, is the only place outside India that was visited by BHAGAWAN in the year 1968. His letter to Professor V.K. Gokak speaks volumes of the Vision of BHAGAWAN. This is the first project of its kind where Dharmakshetra will export a seva project to Kampala. Dharmakshetra has resolved to set up 80 borewells to ease the water problem of the denizens of Kampala. This project has been undertaken to commemorate the landmark visit of BHAGAWAN to Kampala.
---
DHARMAKSHETRA - A PILGRIMAGE CENTER
It is Swami's mandate that Dharmakshetra is a TIRTH a Pilgrimage Centre. The Trust is taking all steps to create a highly charged Zone in Dharmakshetra by intense spiritual Sadhana by all the devotees of Maharashtra. It is resolved that all devotees and active workers from the whole state of Maharashtra will visit Sathya Deep and perform sadhana as per the guidelines, so that Sathya Deep, which is already vibrant by the physical habitation by Swami in His physical Form can continue to grant succour to every human being who visits Dharmakshetra.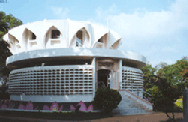 ---
UNIQUE INITIATIVE BY THE SRI SATHYAl SAI INSTITUTE OF AGRICULTURE AND BIOTECHNOLOGY
This is a unique institution catering to the village youth by training them in the art of biotechnology and agriculture simultaneously with training in medicare and educare.
This is totally free of charge and aims at making the village youth self sufficient and expert in the field of agriculture by using the latest biotechnological methods. It grooms the village youth in the spirituality and self reliant medical growth of medicinal plants to deal with ailments at the village level.
Currently, 4 districts are covered in the Institute and it is proposed to hasten the coverage of other Districts after the formal launch. It is proposed to create a Co-operative Society of the village youth who have been trained from the district of Jalgaon so that, the produce from the farms, based on the training given by the Institute, can be channelised through the Co-operative
movement for the financial benefit of the students.