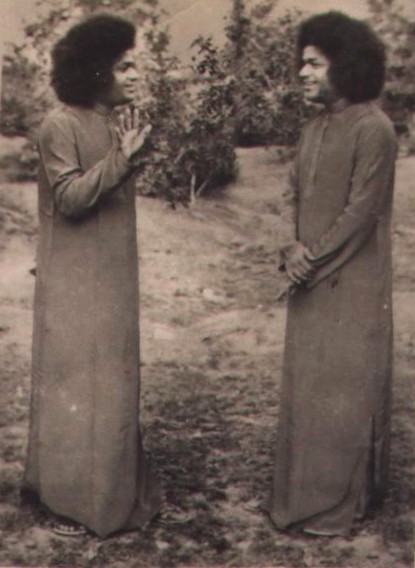 The above photo was materialised by Bhagavan long back. - Posted by Mahesh on 08.03.2005
Mahashivaratri 2005 - the morning inside Nilayam
Om Sri Sai Ram
Dear Sisters and Brothers in Sai,

Complete unforeseen and quite unusual Swami granted His Divine Discourse today in the morning. He told that Shiva is not matted hair; Shiva is "Universal Cosmic Consciousness" and that "Universal Cosmic Consciousness" is Love. So every moment is Shivaratri, is auspicious.

Swami then talked on "unity", that there is one God only. We should strengthen this unity, that is the goal in front of us. Finally He told that God is positive only and there are positive and also negative human beings. He asked to which sort we would belong to. The crowd screamed: "positive!"

Bhagavan replied by asking how it could be that all of us were doing so many differences when being so positive – because of "positive is unity" and "God is positive only".

Furthermore our Beloved Lord mentioned one more important thing belonging to our behaviors. "When food and other habits are perfect, there will be no differences".

(His Discourse came to the end at 9.15 am by songs of His students until 10 am.)
---
Afternoon Darshan
Dear Ones

Sai Ram

Swami granted a second Divine Discourse (on Sathya and Dharma which are lost completely in Bharat) in the afternoon (8.3.05) - just finished.

(His Discourse) came to an sudden end: By addressing the students He announced that He may come back into Sai Kulwant Hall by Brahma Muhurta and see who is a true Devotee and has sung the Glory of God with a joyous face.
Posted by Jay Sai Ram - 08.03.2005
---
Lingam ??? - 09.03.2005

Sri Sai Ram

Today (9.3.05) Swami was coming at 6.15 am to Sai Kulwant Hall and during sitting in His sofa He kept drinking a lot of water. Then water started coming out of His mouth and our Lord left the Hall for His House very fast.

Seems to be that He is doing what has to be done - "inside". Another holy and loveful lecture.

Jay Sai Ram
---
Om Sri Sai Ram

Dear Ones,
within this JSR is forwading some private impressions sent by a Lady Devotee from Parthi. Sure that Your Sai Hearts (searching for sathyam) will enjoy the Love Lines.

Jay Sai Ram
Private observations of Mahashivaratri 2005 in Prasanthi Nilayam:

In the morning of March 8th, we were surprised to see that Swami gave a discourse! There were talks also before His, and then plenty of mantras & bhajans by the boys afterwards, as well as the distribution of sweets afterwards. Usually, the students do bhajans in the morning and Swami gives a discourse in the evening. Because Swami did everything in the morning itself, we thought maybe the only thing that would happen in the evening would be the start of Akhanda Bhajan! Swami also looked weak as He has lately, slow when walking those few steps from car to chair and again from chair back to the car.

There was an announcement that Akhand Bhjan would commence with the blessings of Swami, at 6 PM that evening.

In the evening of March 8th, Swami arrived around 3 PM. There were two or three long talks and then Swami's discourse again! Near the end of the discourse, Swami suddenly slid back into the chair. It was like He could no longer stand up. He continued the discourse for some more minutes, with the table microphone being hand held (below the level of the table) by an assistant by Swami's side.

After Swami's discourse, Swami remained sitting and bhajans began. I believe it was around 5 PM (one hour early)! After maybe 20 or 30 minutes of bhajans, Swami tried to get up from the chair. His first two attempts failed but He finally lifted Himself up, with the assistance of two boys on either side of him. Lately he has really a lot of trouble getting up after sitting for a long time. After arising, as usual He stayed standing in one place for several minutes, then took several small steps, looking like it was very difficult, pausing a long time between each step. Finally He agreed to the requests of His assistants, and they brought the chair He had been sitting in (which had wheels on it) and He sat down. The chair was wheeled the short distance to the golf cart, where Swami was practically physically lifted up by the two boys and placed in the cart. Swami left the hall and bhajans continued throughout the night.

Swami arrived in the morning about 6 AM. There was tension around as Swami started to display some of the signs of Lingodbhava. He started drinking more and more water, with assistants running back and forth to the interview room, brining more glasses of water. Some water was poured from a thermos, maybe cooled. Swami started wiping His face and neck with His kerchief a lot, as if becoming very warm. He started coughing and clutching His throat with the kerchief. Suddenly, he threw up a large amount of water.

That was the wakeup call for the already anxious assistants. They consulted with Swami who finally called for arathi. Arathi was preformed. Swami slowly got up and was helped by His assistants on both sides, holding His arms and hands, as Swami very slowly and weakly made His way to the golf cart. Swami was already bending over and looked very uncomfortable. As soon as Swami sat in the golf cart, in an instant the car went in race car mode and sped off the fastest we ever saw that car go! Even then, Swami was bending over and looked like the lingam would be born right there on the car! But the car went mighty fast and soon Swami had disappeared into the Poornachandra.

There was confusion for a few minutes as people wondered to stay or was it all over, should they just leave? Then an announcement was made that everyone should remain there for distribution of Prasad. Soon college boys were brining in the numerous containers of yellow rice and sweet laddus, and Prasad was distributed to all.

Afterwards, several people approached me complaining why did people pray for Swami to stop the public display of Lingodbhava? He would anyway do it in private - as the spontaneous formation of the lingam could not be suppressed - so He would anyway suffer, whether in front of the public or not. He has been doing it all these years to give us the Grace of beholding it, but only due to the pressure of the prayers of many people, He agreed not to do it in public this time. If Swami anyway wants to give us this Grace, who are we to demand otherwise? That was only the personal opinion of the few people who approached me.

Thus ended another new and different Maha Sivarathri, with no public lingodbhava taking place.
Posted by Jay Sai Ram - 09.03.2005